Before coming into the acting world of Bollywood, Parineeti moved to London at the age of 17 to received higher education.
Everyone loves a sob story and especially when it comes from a celebrity. You know the rags-to-riches type. But Bollywood actress Parineeti Chopra seems to have irked one of her former classmates with her recent startling revelations on 'modest background'. Global icon Priyanka Chopra's cousin sister who recently was seen in Meri Pyaari Bindu film also had narrated about her harrowing times with eve-teasing during her school days. Now this guy, allegedly actor's classmate is slamming her of 'lying through the teeth' in a Facebook post, which has naturally gone viral on the social media.
Parineeti Chopra surprised many when the actress revealed some intricate details of her early school days. She was attending a self-defense event with superstar Akshay Kumar  where she spoke at length about having to travel on cycle, and the boys tried to lift her uniform skirt. The 28-year-old who did her schooling from Convent of Jesus and Mary in Ambala Cantonment grabbed a lot of eyeballs and hue and cry over her story. But this definitely did not go down too well with one of her batchmates.
This man named KKanoo Gupta took to Facebook to 'expose' his fellow class girl turned famous Bollywood celebrity's remarks on coming from an impoverished background. He called out Parineeti Chopra for creating a fabricated story to generate sympathy. He writes, "Parineeti Chopra Shame…….. coming from a privileged background and lying through the teeth in front of camera. I guess this is what being a celebrity means. Create a fabricated sob story of no money no car etc etc."
Gupta did not stop at this but mentioned how he remembers Parineeti Chopra's father drove a car. The reason why the actress rode the cycle was that because it was in fashion and not because she could not afford better. The viral Facebook post further reads, "Coming from the same school I probably also remember the car her father used to have. And going to school on a cycle was a trend those days and also a privilege not every one had. My friends from CJM would probably understand the lies a bit better. SIC."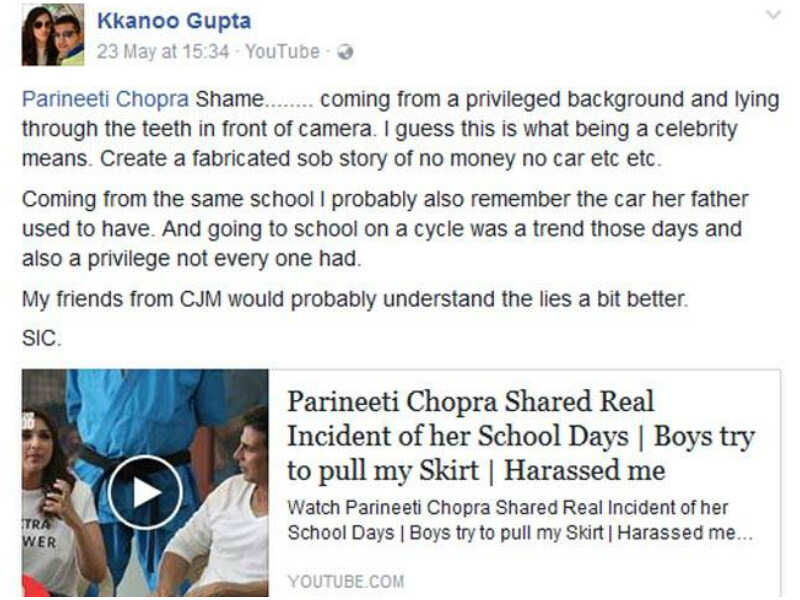 Parineeti's father Pawan Chopra is a businessman supplier to the Indian Army at Ambala Cantonment. Before coming into the acting world of Bollywood, Parineeti moved to London at the age of 17 to received higher education. She has a triple honours degree in business, finance and economics from Manchester Business School in the United Kingdom. Hmm, now this makes us wonder if indeed Parineeti was lying and presented a sob story to attract sympathy, well, only the girl can answer it.