Kelly Kelly
 Born as Barbara Jean Barbie Blank,
an American model, professional wrestler, and professional wrestling valet, better known by her ring name Kelly Kelly. She is best known for her time with WWE. Of all the hottest women wrestlers in all the lands, Kelly Kelly is best. No other lady on this list begins to compare with the sexual appeal of Kelly Kelly. She stands atop a hot list of hotties and does so with the greatest of ease.
Paige (Britani Knight)

Born as Saraya-Jade Bevis, is an English professional wrestler, better known by her ring name Paige. She is signed to WWE, where she performs in its developmental territory NXT Wrestling as the inaugural and current NXT Women's Champion under the ring name Paige. She was known previously as Britani Knight. Bevis is part of a professional wrestling family. Her parents, Sweet Saraya and Ricky Knight, are professional wrestlers, as are her older brothers, Roy and Zak.
Brooke Adams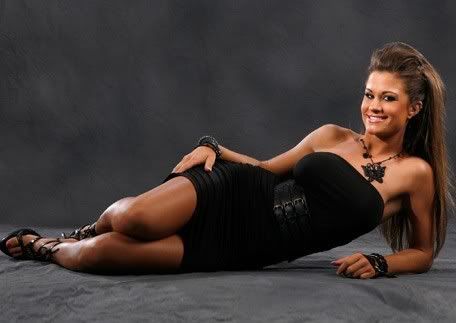 Once again, it is TNA and not WWE that has a ridiculous hottie in my top 10, Brooke Adams. She previously worked for World Wrestling Entertainment appearing with Kelly Kelly and Layla in the dance group Extreme Exposé on the company's former ECW brand. She is a former two-time TNA Women's Knockout Champion and a one-time TNA Knockouts Tag Team Champion with Tara, known collectively as TnT.
Sarah Backman
A Swedish born, former eight-time World Arm Wrestling Champion, Sarah Bäckman is one of the most decorated women's arm wrestlers in the world. She is currently working for WWE competing in their developmental territory, NXT Wrestling. Sarah began arm wrestling at age 14. She retired from arm wrestling to pursue a wrestling career in May 2013 when she decided to sign with WWE.
Eve Torres

Eve Torres is an American dancer, model, and professional wrestler. She is best known for her work with WWE as Eve, as well as her full name. If she is dancing out in ring or bossing people around as the assistant general manager, Eve is still smoking hot. She has many stories to tell. She is much more interesting to talk to than that Kardashian lady. She dated Reggie Bush in college, was a dancer for the L.A. Clippers, won the 2007 WWE Diva Search contest, and is trained in Brazilian Jiu-Jitsu.